At Broad Street Events, we create more than individual coordination and planning packages; we create distinct designs, flawless execution, and breathtaking backdrops.
Broad Street events is a wedding coordinator based in Charleston, SC.
We provide an experience during the planning and execution of your wedding that is as simple and stress-free as possible.
By choosing Broad Street Events, you are choosing an industry leader with a keen eye who strives for perfection every step of the way. Whether you plan to host a local soiree, an intimate elopement or a large scale destination wedding, let Broad Street Events be your guide.

Creating a Custom Package
Wedding coordination and planning packages typically have a wide range of services that are included. A planner will come in and assist at different stages during your planning process based on the package you select. Some couples want help from the start, overseeing every aspect of budgeting and vendor selection; yet others seek someone there day-of to set up and act as a liaison for all the vendors. At Broad Street Events we will tailor a custom package to meet all of your specific needs instead of offering structured plans that may not cover exactly what your event requires.
Whether you need day-of services or 50 hours of pre-event planning and design assistance, Broad Street will craft a custom event package to meet your needs and budget.
Let us guide you through the process of composing the perfect package for your big day, our fully customizable coordination and design packages begin at $1,200. Reach out to our team to get started.

Whether or not we assist in planning your big day, we offer a catalog of items to help bring the "Pop" and "Wow" to your venue.  Rental items such as beautiful mahogany chairs, plush lounge seating, flowing draperies, dazzling light fixtures, and much more.  We offer a virtual look book to help you start selecting the perfect pieces for your event.  Find out more about our event rentals here.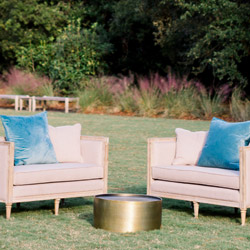 Our strategy is open communication and full transparency from the start. We work intimately with each client because we know that every event is exceptional. We believe an event should incorporate each couple's own personality and style and bringing that to life is what we do best.
We strive to bring out the most in your creativity and vision when designing or planning your event. We are not interested in simply creating an event, our passion is to create authentic relationships that ultimately create extraordinary moments and memories for your wedding day.
Being an expert in the local wedding industry means being able to recommend and work in the most sought-after venues in the country as well as work with the extremely talented and experienced vendors throughout the area.
When we engage in a special event, our clients are tapping into a network of preferred vendors ranging from entertainers, florists, caterers, and everything in between.